Hard Ei8ht is back!!! We will be debuting our brand new, full color, full awesome Hard Ei8ht vol. 2 in just about a week from now at the SD Comic Con!!! To make sure you get one before the throngs of con goers buy em all up, you can preorder now at our 
Hard Ei8ht blog
 and pick up at the convention or we can ship one out to you. While you're there, make sure to check out the sneak peek pages we have up to show why this is going to be the must buy book at the con this year! See you at booth 1034!!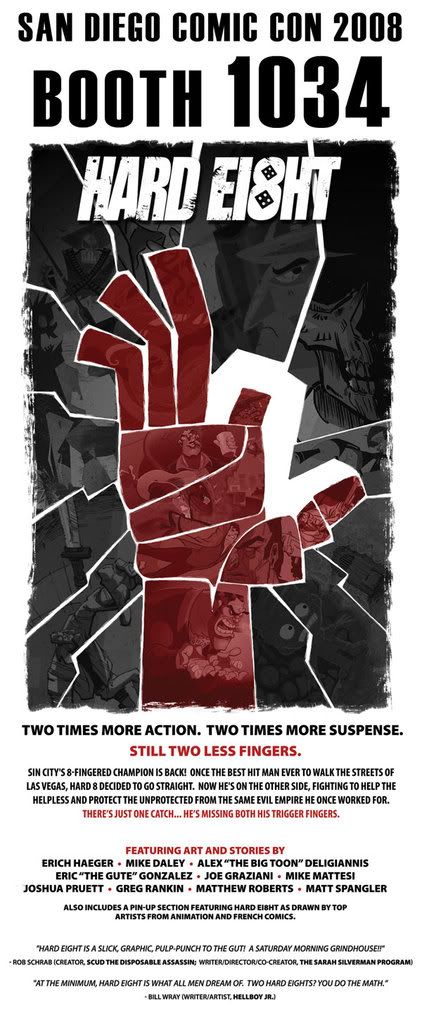 As for the still running weightloss challenge between the lovely and talented
Alex "formerly BIG Toon" Deligiannis
 and I, I saw him last friday and he was looking pretty svelt. But I am doing my best to keep up with him. At the start of our competition, I weighed in at 292lbs and as of the last time I weighed myself I was 238lbs. When we first started our competition, the pants I wore on the night of the weigh in were size 58 and last week I bought a new pair of pants that are size 48 and they're already starting to get a little loose. I went from wearing size 3-4XL t-shirts to currently XXL. Don't get me wrong, I'm still very overweight and have a long way to go, but I am starting to see results in the clothes that I wear and I think this competition has a been a good thing for both Alex and I. I don't know about him but I very much want to keep going, even after our competition ends in September. Maybe a sequel? Though I have reached the point where my weightloss has slowed and I need to start readjusting my exercise routine and diet, I unfortunately don't fit into any of my old clothes so I've had to start digging deep in my closet, as you can tell by the picture below.